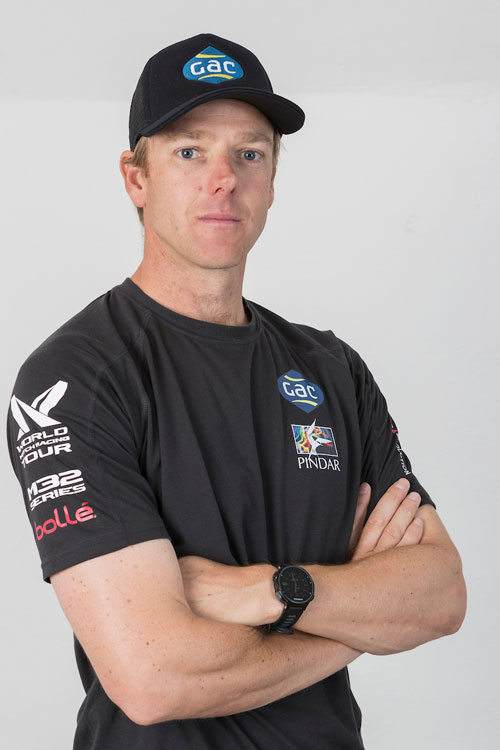 Name: Ian Williams (GBR) GAC Pindar
Nationality: British
Residence: Lymington, England
Date of Birth: 1977-04-26
Ian Williams is already considered the most successful skipper on the World Match Racing Tour after winning 6 World Championship titles in his career, but last year added another record to his career as he won his 17th WMRT event. The previous record of 16 events was held by Australian sailing legend Peter Gilmour until Williams matched this by taking the 2017 Congressional Cup. When the Brit won again at the Chicago Match Cup last year he cemented himself yet again into the match racing record books.
After another successful summer becoming back-to-back M32 Series Scandinavia champions, GAC Pindar are clearly mastering the M32 catamaran. The full GAC Pindar squad have also been crewing for M32 teams in the North American series to really hone their catamaran skills.
At the Match Racing World Championship the Quarter Final stage pairing against Kiwi team 36 Below Racing set the stage for a repeat of the 2016 Championship where Chris Steele surprised all by beating Williams and sending the six-time champion out of the competition. The pair matched up at the Quarter Final stage of the Chicago Match Cup where this time Williams had the better of Steele, however the curse of Chris Steele hit back in China.
Williams and the GAC Pindar team look back on their second year in the new era of the World Match Racing Tour as an improvement however, winning two Championship level events to finish second on the WMRT leaderboard. This is up from the 2016 result of finishing third on the leaderboard after just one event win in Australia. Can Team GAC Pindar continue their success and progress to number one on the WMRT Championship leaderboard in 2018 and shake the Quarter Final stage exit at the world championship?
Ian Williams (Skipper)
Royal Lymington Yacht Club
Paul Campbell-James (Tactician)
Richard Sydenham (Trimmer)
Exe Sailing Club
Will Ryan (Float)
Kirikiri
Match Racing World Championship Results
2017 — 8th (2rd on WMRT Leaderboard)
2016 — 7th (3rd on WMRT Leaderboard)
2015 — 1st
2014 — 1st
2013 — 2nd
2012 — 1st
2011 — 1st
2010 — 5th
2009 — 6th
2008 — 1st
2006/07 — 1st
2005/06 — 2nd
2004/05 — 22nd
A full first day of racing in glorious sunshine and solid westerlies at the WMRT Match Cup Russia in St…